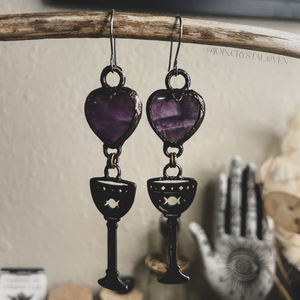 The Loving Cup Earrings
These earrings hang on stainless steel hooks. The components are oxidized copper and the hearts are amethyst.
These earrings come ready to wear as well as ready to gift. You will receive the earrings photographed.
Please avoid dropping all handmade jewelry as it is fragile. Jewelry should also be removed before sleeping, swimming or bathing.
All purchases are final and much appreciated. Within Crystal Coven, all we do is with intention. Grounded and giving, we send magic your way.