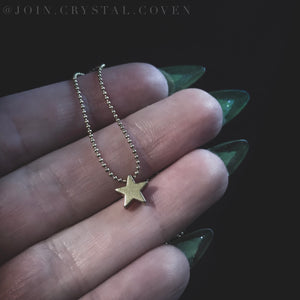 The Star Maiden Necklace
The Star Maiden Necklace is named for the Ancient Greek Goddess Astraea. Astraea was born of the god of the dusk and the goddess of the dawn. It is said that when she returns to Earth she will bring with her a utopia in which human suffering will be no more.
The Star Maiden Necklace is held captive by a 16 inch delicate brass ball chain.
Brass will tarnish with time, when it does you can gently use a jewelry polishing cloth to return the shine. Be sure to remove before sleep and showering to keep the shine for longer periods between polishing.
This talisman comes ready to wear as well as ready to gift. All sales are final and greatly appreciated. Keep the magic going and give us a follow on instagram, @join.crystal.coven.