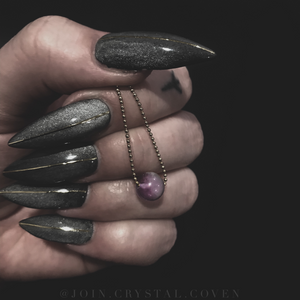 Amethyst Crystal Ball Necklace
The Amethyst Crystal Ball Necklace is held captive by a 15 inch delicate brass ball chain.
Brass will tarnish with time, when it does you can gently use a jewelry polishing cloth to return the shine. Be sure to remove before sleep and showering to keep the shine for longer periods between polishing.
This talisman comes ready to wear as well as ready to gift. Keep the magic going and give us a follow on instagram, @join.crystal.coven. All sales are final and greatly appreciated.