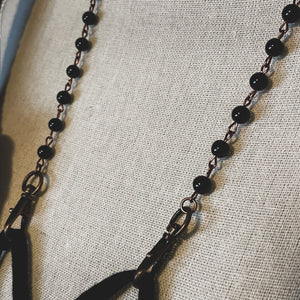 Black Tourmaline Mask Chain
Our Mask Chains make your mask accessible and add some extra crystals to your outfit while you are out in the world. This item is carefully handmade and is easily transferred from one mask to another.
The Black Tourmaline Mask Chain measures approximately 20 inches and clips onto the straps of your mask. You will receive the one photographed or one very similar and intuitively selected for you.
Please avoid dropping all handmade jewelry as it is fragile. Jewelry should also be removed before sleeping, swimming or bathing.
Keep the magic going and give us a follow on instagram, @join.crystal.coven. All purchases are final and much appreciated. Within Crystal Coven, all we do is with intention. Grounded and giving, we send magic your way.