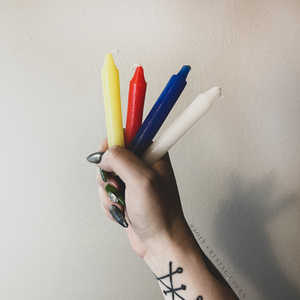 Spell Candles - Select Color(s)
Spell candles are an invaluable ritual tool. They are 4 inches in height, the perfect height to perform your ritual, sit with your intentions, and have the candle wrap up in a couple of hours.
We also supply the perfect brass Spell Candle Holder, which you can find here.
Always use caution when using fire. Never leave a burning candle unattended. Never light near children or pets. Place on a stable and out of the way/reach surface.
All sales are final and greatly appreciated. Magic is as magic does.